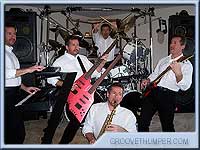 Patrick ORourke
Patrick is a musician based out of Rockledge FL, supporting multiple bands performing different styles of music in the Brevard County area.
One of Brevard County's most renowned and respected drummers & bass players, whose style not only reflects his technical gift but also his distinct musical sensibility. No matter what type of music Patrick applies the same precision and intensity to his performing, which is never lacking in emotion and feel. His timing, sense of rhythm and sheer inventiveness have given him a unique style and sound, which is instantly recognizable, yet compatible with the many different styles of music.

For Patrick ORourke, attention to the music, consistency, and dedication are key. As a performer, it is this, along with his easy-going attitude, ability and skill, that have continued to earn him positions in the top Brevard bands.

Patrick's musicianship as a drummer and bass player was influenced by no specific individual element in the music world. Instead, his style has been shaped by legends such as Rush, Boston, Toto, Styx, Yes, Tool, Dream Theather and the Police.